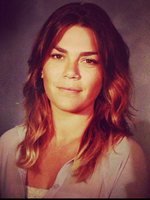 Stephanie Pierro

Stephanie Pierro was born in La Jolla, California as the youngest of 5 children. She was raised in coastal North County San Diego, and has resided in Carlsbad for the past 14 years raising her children. She obtained her BA in Visual Studio Arts with honors from the University of California, San Diego.

Her art practice began at an early age, studying under her grandmother who was a professional portrait and landscape painter. Stephanie's passion for art grew when she attended high school at San Dieguito Academy in Encinitas, studying art under artist John Ratajkowski. Stephanie went to study Studio Visual Arts at UCSD in the Honors program under artists such as Amy Adler, Ruben Ortiz-Torres, Teddy Cruz,Ricardo Dominguez, amoung others. She has shown her work locally in North County, and has taught art to both children and adults in various mediums.

Alongside her art practice, Stephanie is building her career as an educator. She holds a degree in Child Development and currently working toward achieving her multiple subject and art teaching credential. Stephanie has worked with K-8 students in multiple North County San Diego schools including The Rhoades School of Encinitas. She will be teaching art during the summer months at The Art Farm of Carlsbad.